Main content starts here, tab to start navigating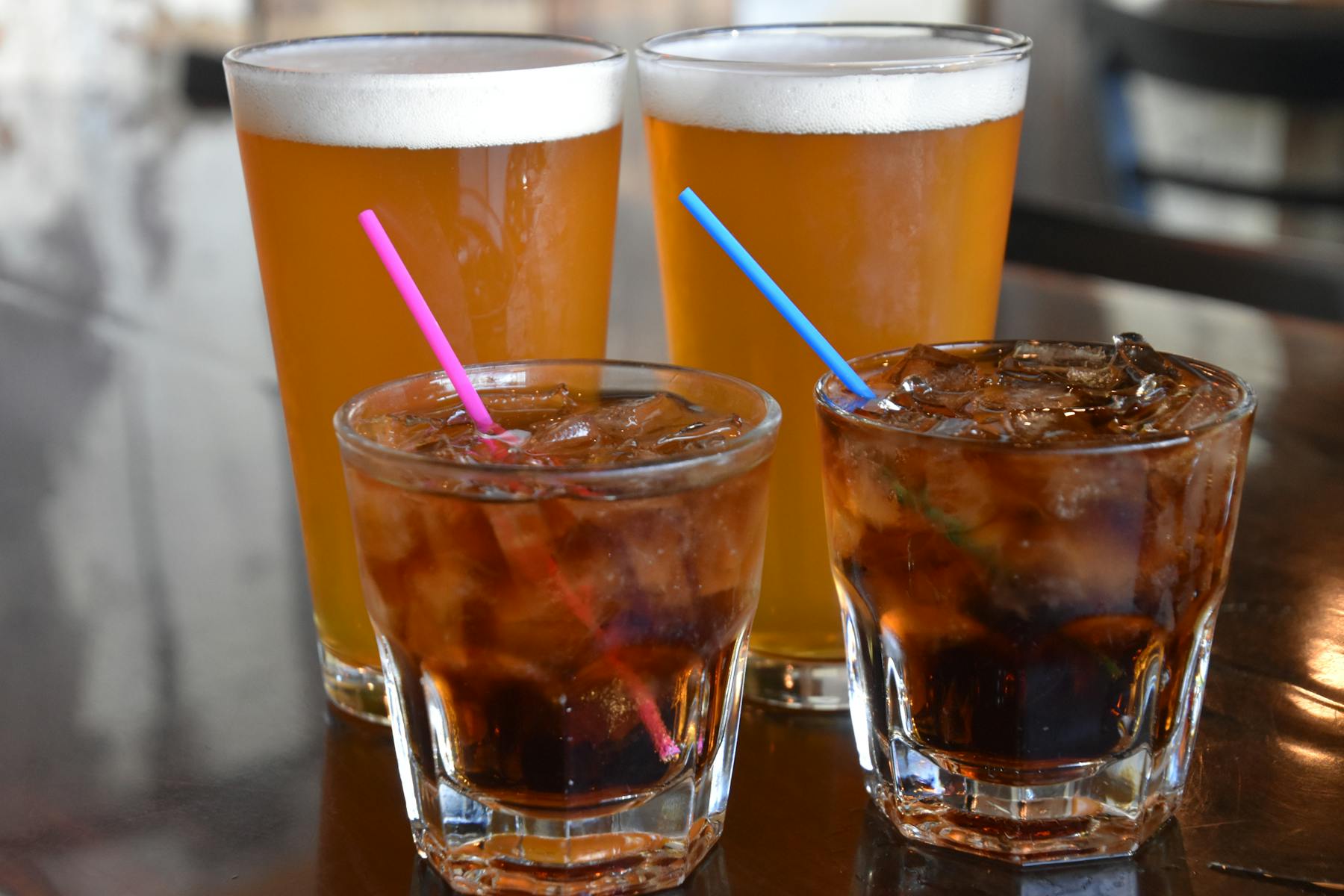 Tap Beer
Beers are served 2 for 1 unless marked with asterisks **
Michelob Golden Light

Anheuser Busch, St. Louis, MO | ABV 4.1% Light Lager.

Bud Light

Anheuser Busch, St. Louis, MO | ABV 4.2% Light Lager

Coors Light

Coors Brewing, Golden, CO | ABV 4.2% Light Lager

Miller Lite

Miller Brewing Co, Milwaukee, WI | ABV 4.1% Light Lager

Blue Moon

Coors Brewing, Golden, CO | ABV 5.4% Witbier

Blue Moon Mango

Coors Brewing, Golden, CO | ABV 5.4% Fruit Beer

Elysian Superfuzz Blood Orange Pale

Elysian Brewing, Seattle, WA | ABV 6.4% Fruit

Leinenkugel's Summer Shandy

Jacob Leinenkugel's Brewing Co, Chippewa Falls, WI | ABV 4.2 Fruit Beer

Angry Orchard

Boston Beer Co., Jamaica Plain, MA | ABV 5.0% Cider

gluten free

Honeyweiss

Jacob Leinenkugel Brewing Co., Chippewa Falls, WI | ABV 4.9% Kristalweizen

Stella Artois

Anheuser Busch InBev, Leuven, Belgium | ABV 5.0% Euro Pale Lager

Lagunitas

Lagunitas Brewing Co., Peteluma, CA | ABV 6.2% American IPA

Bells Two Hearted

Bell's Brewery, Kalamazoo, MI | ABV 7.0% American IPA

Deschutes Fresh Squeezed IPA

Deschutes Brewery, Bend, OR | ABV 6.4% American IPA

Big Wave Golden Ale

Kona Brewing Co., Kailua-Kona, HI | ABV 4.4% American Blonde Ale

Alaskan Amber

Alaskan Brewing Co., Juneau, AK | ABV 5.3% Altbier

Foggy Geezer Hazy Ipa

War Pigs Brew Pub, Kobenhaun, Denmark | ABV 6.8% Ameri Dbl/Imperial IPA

Guinness

St. Jame's Gate., Dublin, Ireland | ABV 4.2 Stout

Sam Adams Boston Lager

Boston Beer Co., Jamaica Plain, MA | ABV 5.0% Vienna Lager

Sam Adams Seasonal

Boston Beer Co., Jamaica Plain, MA | ABV % varies
Minnesota Breweries
Waconia Chocolate Peanut Butter Porter

Waconia Brewing, MN | ABV 6.4% English Style Porter

Excelsior Big Island Blonde

Excelsior Brewing Co., Excelsior, MN | ABV 5.1% Amer. Blonde Ale

Badger Hill Traitor Ipa

Badger Hill Brewing Co., Shakopee, MN | ABV 7.0 American IPA

Castle Danger

Lift Castle Danger Brewing Co., Two Harbors, MN | ABV 5.3% Cream Ale

Surly Furious

Surly Brewing Co., Minneapolis, MN | ABV 6.2% American IPA

Surly Xtra Citra

Surly Brewing Co, Minneapolis, MN | ABV 4.5% American Pale Ale

Indeed Day Tripper

Indeed Brewery, Minneapolis, MN | ABV 5.4% American Pale Ale

Sociable Pinch Flat**

Sociable Cider Werks, Minneapolis, MN | ABV 6.0% Cider 6 (served as a single)

gluten free

Loki's Daughter**

(Gluten Reduced) Shakopee Brewhall, Shakopee, MN | ABV 5.3% Munich Helles

Utepils Ewald The Golden

Utepils Brewing, Minneapolis, MN | ABV 5.2% Hefeweizen

Steel Toe Size 7

Steel Toe Brewery, St. Louis Park, MN | ABV 7.0% Pacific Northwest Style IPA

Summit Extra Pale Ale

Summit Brewing Co., St. Paul, MN | ABV 5.3% English Pale Ale
SPECIALTY COCKTAILS
Not served 2 for 1
Vibrant Sunrise

Blood orange, gin, lemon juice, lime juice & agave garnished with an orange

Irish Gold

Jameson, ginger ale, peach schnapps, orange juice with a lime wedge

Spicy Margarita

Silver tequila, honey, jalapeno pepper, lime juice with lime wedge

Blueberry Mint Lemonade

Stoli blueberry vodka, lemon, blueberry & mint

Classic Mojito

Bacardi Rum, lime juice, mint & soda

Champagne Grapefruit Pineapple Mojito

Pineapple vodka, grapefruit juice, simple syrup, lime, champagne & mint

Moscow Mule

Tito's vodka, lime & ginger beer

Georgia

Peach Vodka, lime & ginger beer

Long Island Raspberry Iced tea

Gin, light rum, tequila, vodka, coke, sweet & sour mix, and Chambord raspberry liquor garnished with a lemon.

Rosemary Lemon Drop Martini

Tito's vodka, limoncello, lemon juice, simple syrup and garnished with a rosemary sprig
SPECIALTY BLOODY MARYS
Not served 2 for 1
Spicy Bloody

Tito's vodka & house made bloody mix topped with a splash of tabasco & pepper, garnished with pepperoni, pepper jack cheese, pepperoncini, celery, and a lime wedge.

Land and Sea Bloody

Tito's Vodka & house made bloody mix garnished with a beef stick, shrimp, bacon, celery, lime wedge, and sea salt rim

Garden Bloody

Tito's Vodka & house made bloody mix garnished with celery, carrot, cherry tomato, olive, pickle & lime wedge

Fruity Mary

Tito's Vodka & V-8 cherry juice garnished with pineapple, blackberry, orange and strawberry with a lime wedge and sugar rim.
BOTTLED BEER
Beers are served 2 for 1 unless marked with astericks* *
Bud

Bud Light

Bud Light Lime

Mich Golden Light

Mich Ultra

Miller Lite

Coors Banquet

Coors Light

Corona

Corona Light

Heineken

MGD 64

Busch Light*

(served as a single can)

MGD

Mike's - Varies

Grainbelt Premium

Highlife

Nordeast

Pabst Blue Ribbon

O'douls / O'douls Amber

White Claw - Varies

Stella Cidre

Omission

Varies

gluten free

Twisted Tea

Sociable Ciders*

Varies | (served as a single can)

gluten free
WINE
Wine is a single pour and not served 2 for 1. | All wines are available to purchase by the bottle. Please ask your server for details. | Wednesdays are 1/2 price bottle of wine.
Whites
Chardonnay
Sterling

(Central Coast, California) Floral and vanilla aromas mingle with lush fruit on the nose. The pineapple and green apple flavors on the palate are enhanced with subtle spicy oak shadings that linger through the soft finish.

Chateau St. Jean

(Sonoma Valley, California) Creamy and buttery with enticing aromas of ripe tropical fruit with flavors of crème Brulee, spiced apple and lemon meringue on the palate.

Cave De Lugny

(Burgandy, France) Refreshing French white aged in stainless steel not oak with floral, fruit and citrus notes.
Pinot Grigio
Barone Fini

(Valdadige, Italy) Medium bodied, dry and crisp with characteristic almond overtones with lively apple & pear flavors and a smooth finish.
Sauvignon Blanc
Joel Got

(Napa, California) Aromas of mango, ripe melon, peach and passion fruit with citrus and floral notes. Crisp, refreshing acidity and a long, clean balanced finish.

Kim Crawford

(Marlborough, New Zealand) Smooth and invigorating with lovely citrus and pineapple fruit, this is a racy, tangy and crisp wine with a long and balanced finish.
Moscato
Bodega Norton

(Mendoza, Argentina) Bright golden heroes and floral aromas with a hint of citrusy notes. Crisp, sweet and creamy with a pleasant finish.
Chenin Viognier
Pine Ridge

(Napa, California) Crisp, lively and refreshing, medium bodied wine with a tangy, citrus flavor and light mineral accent with some complexity.
Reds
Cabernet Sauvignon
Sterling

(Central Coast. California) Rich black fruit flavors with hints of toffee and chocolate from toasty oak with a full and soft finish.

Chloe

(San Lucas, Monterey, CA)) Lucious flavors of black cherry, ripe plum, and dark chocolate, followed by delicate notes of roasted coffee and cinnamon bark. Full-bodied with sturdy tannic structure leading to a long, lingering finish.

Josh

(California) Full-bodied with aromas of ripe fruit, cedar, cinnamon and flowers on the nose. Flavors of blackberry and back cherry with a velvety layer of fine-grained tannins.
Pinot Noir
Firesteed

(Willamette Valley, OR) Bright acidity and aromas of supple red cherries with a hint of maple syrup. Flavors of pronounced red cherry, a well as red currant and cranberry with hints of strawberry and rhubarb. Expresses a roundness filled with Crème Brule and finishes smooth with notes of dark chocolate and creamy caramel.
Red Blend
1000 Stories

(California) Semi-sweet red aged in bourbon barrels with flavors of unique dried herbs, smoke, and burnt vanilla. Blend of Cabernet Sauvignon, Syrah, and Zinfandel.
Merlot
Casillero del Diablo

(Maipo Valley, Chile) Strong aromas of red berry fruit lead to a fresh palate. Medium tannins blend with bright plum and dark cherry flavors into a light herbal finish.
Zinfandel
The Federalist

(Lodi, California) Forefront of red fruit, rich in plum and blackberry spice with a finish long and smooth.