Main content starts here, tab to start navigating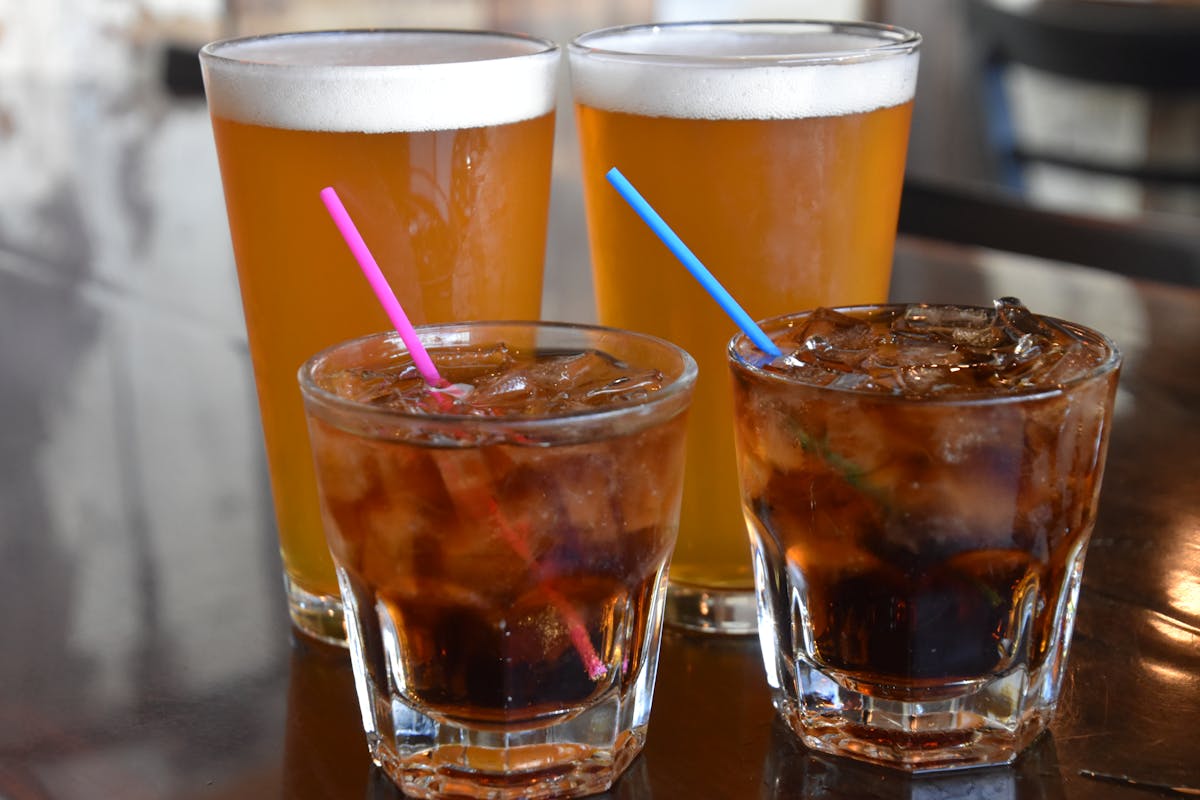 Tap Beer
Beers are served 2 for 1 unless marked with asterisks **
Michelob Golden Light

Anheuser Busch, St. Louis, MO | ABV 4.1% Light Lager.

Bud Light

Anheuser Busch, St. Louis, MO | ABV 4.2% Light Lager

Coors Light

Coors Brewing, Golden, CO | ABV 4.2% Light Lager

Miller Lite

Miller Brewing Co, Milwaukee, WI | ABV 4.1% Light Lager

Angry Orchard (GF)

Boston Beer Co., Jamaica Plain, MA | ABV 5.0% Cider

gluten free

Bells Two Hearted

Bell's Brewery, Kalamazoo, MI | ABV 7.0% American IPA

Big Wave Golden Ale

Kona Brewing Co., Kailua-Kona, HI | ABV 4.4% American Blonde Ale

Alaskan Amber

Alaskan Brewing Co., Juneau, AK | ABV 5.3% Altbier

Foggy Geezer Hazy Ipa

War Pigs Brew Pub, Kobenhaun, Denmark | ABV 6.8% Ameri Dbl/Imperial IPA

Excelsior Big Island Blonde

Excelsior Brewing Co., Excelsior, MN | ABV 5.1% Amer. Blonde Ale

Badger Hill Traitor Ipa

Badger Hill Brewing Co., Shakopee, MN | ABV 7.0 American IPA

Surly Furious

Surly Brewing Co., Minneapolis, MN | ABV 6.2% American IPA

Castle Danger

Lift Castle Danger Brewing Co., Two Harbors, MN | ABV 5.3% Cream Ale

Steel Toe Size 7

Steel Toe Brewery, St. Louis Park, MN | ABV 7.0% Pacific Northwest Style IPA

Summit Extra Pale Ale

Summit Brewing Co., St. Paul, MN | ABV 5.3% English Pale Ale

Blue Moon

Blue Moon Brewing, Denver, CO I ABV 5.4% Witbier

Fresh Squeezed IPA

Deschutes Brewery, Bend, OR I ABV 6.4% India Pale Ale

AN ADDITIONAL 15 ROTATING TAP BEERS, INCLUDING LOCAL BREWERIES, ALSO AVAILABLE.
SPECIALTY COCKTAILS
Not served 2 for 1
Irish Gold

Jameson, ginger ale, peach schnapps, orange juice with a lime wedge

Spicy Margarita

Silver tequila, honey, jalapeno pepper, lime juice with lime wedge

Blueberry Mint Lemonade

Stoli blueberry vodka, lemon, blueberry & mint

Classic Mojito

Bacardi Rum, lime juice, mint & soda

Champagne Grapefruit Pineapple Mojito

Pineapple vodka, grapefruit juice, simple syrup, lime, champagne & mint

Moscow Mule

Tito's vodka, lime & ginger beer

Georgia

Peach Vodka, lime & ginger beer

Long Island Raspberry Iced tea

Gin, light rum, tequila, vodka, coke, sweet & sour mix, and Chambord raspberry liquor garnished with a lemon.

Rosemary Lemon Drop Martini

Tito's vodka, limoncello, lemon juice, simple syrup and garnished with a rosemary sprig
SPECIALTY BLOODY MARYS
Not served 2 for 1
Spicy Bloody

Tito's vodka & bloody mix topped with a splash of tabasco & pepper, garnished with pepperoni, pepper jack cheese, pepperoncini, celery, and a lime wedge.

Land and Sea Bloody

Tito's Vodka & bloody mix garnished with a beef stick, shrimp, bacon, celery, lime wedge, and sea salt rim

Garden Bloody

Tito's Vodka & bloody mix garnished with celery, carrot, cherry tomato, olive, pickle & lime wedge
BOTTLED BEER
Beers are served 2 for 1 unless marked with astericks* *
Bud

Bud Light

Bud Light Lime

Mich Golden Light

Mich Ultra

Miller Lite

Coors Banquet

Coors Light

Corona

Corona Light

Heineken

MGD 64

Busch Light*

(served as a single can)

MGD

Mike's - Varies

Grainbelt Premium

Highlife

Nordeast

Pabst Blue Ribbon

O'douls / O'douls Amber

White Claw - Varies

Stella Cidre

Omission

Varies

gluten free

Twisted Tea

Sociable Ciders*

Varies | (served as a single can)

gluten free
WINE
Wine is a single pour and not served 2 for 1. | All wines are available to purchase by the bottle. Please ask your server for details. | Wednesdays are 1/2 price bottle of wine.
Whites
Sterling Chardonnay

(Central Coast, California)

The Stag Chardonnay

(California)

Sonoma-Cutrer Chardonnay

(California)

Barone Fini Pinot Grigio

(Valdadige, Italy)

Chemistry Sauvignon Blanc

(Oregon)

St. Supery Sauvignon Blanc

(California)

Kim Crawford Sauvignon Blanc

(New Zealand)

Castello Moscato

(Italy)

Coppo Moscato

(Italy)
Reds
Sterling Cabernet

(Central Coast. California)

Bellacosa Cabernet

(California)

Robert Hall Cabernet

(California)

Sea Sun Pinot Noir

(California)

Starmont Pinot Noir

(California)

J Lohr Merlot

(California)

The Stag Red Blend

(California)